Downstairs Gym Rentals
Perfect for:
"Quaranteam" Neighbors
Small Sports Groups
Small Parties
Visits in a large space so kids can socially distance and have fun
Small Daycares
Flying High is excited to be able to provide children a place to play while remaining safely social distanced. Rent our Downstairs Gym for 1 hour, 2 hours, 3 hours, 4 hours, or more!! Space rental will be held in our Downstairs Gym. Children of all ages welcomed. Space rental can accommodate up to 25 kids. The gym will be sanitized thoroughly in between each rental in accordance with CDC guidelines.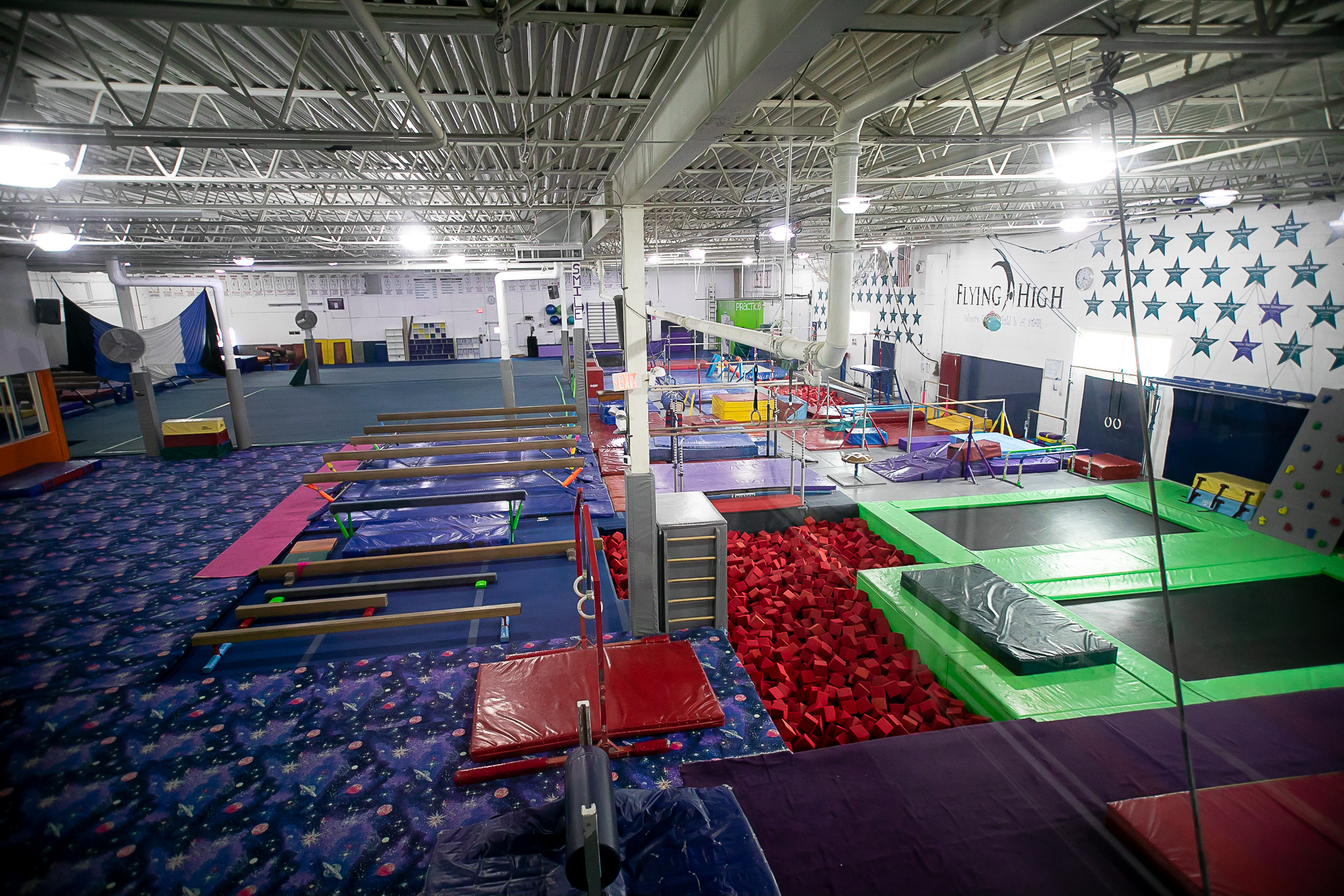 Face masks are required for everyone in the building (over the age of two). This policy covers all classes, practices, events, rentals, birthday parties, and spectators. Masks are also required for all rental attendants and building staff. We recommend bringing water bottles as you will not have access to a water fountain. We also ask that all children attending the space rental be fever free and have no symptoms of a cough.
Our equipment available for use can be thoroughly sanitized between rentals, and includes:
60 ft. Inflatable Obstacle Course
3 Trampolines
Mats of varying sizes
Bars and beams of assorted heights
Lots of floor space to run around
Zip Line ($100 flat fee add on due to extra staff member being needed.)
Party Room for the duration of your rental ($50 flat fee add on due to

extensive cleaning procedures between rentals.)
Book Your Downstairs Gym Rental:
To book your hourly Downstairs Gym Rental, please fill out this Google Form.
1 hour: $125
2 hours: $125 for first hour, $100 for second hour
3 hours or more: $125 for first hour, $100 for second hour, $75 an hour for each additional hour
Upon submitting your Google Form, you will receive a phone call or email to confirm your rental.
A $50 non-refundable deposit is required upon booking. Please submit deposit to secure your rental below. Final payment will be due at the end of the rental.
Attending A Flying High Space Rental?
Waivers are required for all children and adults in attendance at Flying High Space Rentals. In order to save time, please make sure to fill out the online waiver in advance. The online waiver can only be completed by the parent/guardian of the child.
When you arrive at Flying High, please check in with the Front Desk. They will make sure you have a waiver on file and will direct you to the Gym.
We recommend wearing comfortable clothes to run around and play in!
We also recommend bringing a Water Bottle as you will not have access to a water fountain.