Martial Arts
Flying High is proud to offer a diverse class line-up to ensure we're providing programming that appeals to children's vast and varied interests. Martial Arts classes are about self-discovery and character development. We use traditional Tae Kwon Do as our foundation, but branch out in many directions to instill respect, responsibility, self-discipline, and confidence in our athletes. Tae Kwon Do is one of the most widely practiced martial arts in the world. It is one of the two martial arts represented at the Olympics. Our classes focus on coordination, agility, strength, and self-control in a positive and controlled environment.
Learn more about Team United Martial Arts here.
Class Descriptions
Taekwon Tots
3-4 Years Old, Co-Ed
45 Minutes
$87/month
Our tots' classes focus on fun while developing coordination in a child-friendly environment. Our curriculum includes stretching, kicks, punches, and blocks.
Register for Class
Children's Classes
Ages 5 & Up, Co-Ed
1 Hour
$87/Month (Ask about 2X a week pricing!)
Trial Class: Not sure if your child is ready to begin classes or will enjoy themselves?
Sign up for a trial class for $10 to see if it's a good fit without the commitment! If you star enjoys the class and signs up the same day, the $10 trial fee will be applied to your tuition as a credit. Trial Classes can be scheduled by calling our Front Desk!
Martial Arts FAQ
Can I enroll right now or do I have to wait until the next month starts?
Flying High classes run year round with no long term commitments. You may enroll at any time and tuition is paid monthly. We do not charge more for "long" months nor less for "short" months. Over the year, all 12 months average 4 weeks. We will pro-rate tuition if starting mid-month.
An Annual Administration fee of $35.00 is due upon initial enrollment of classes and on the anniversary of each students start date (annually; non-refundable).
Can Parents/Family stay to watch a class?
Yes! We have viewing rooms available and you are more than welcome to come and watch a class in action! We also have a Café where drinks and snacks can be purchased while you watch class.
What is the Belt Rank System?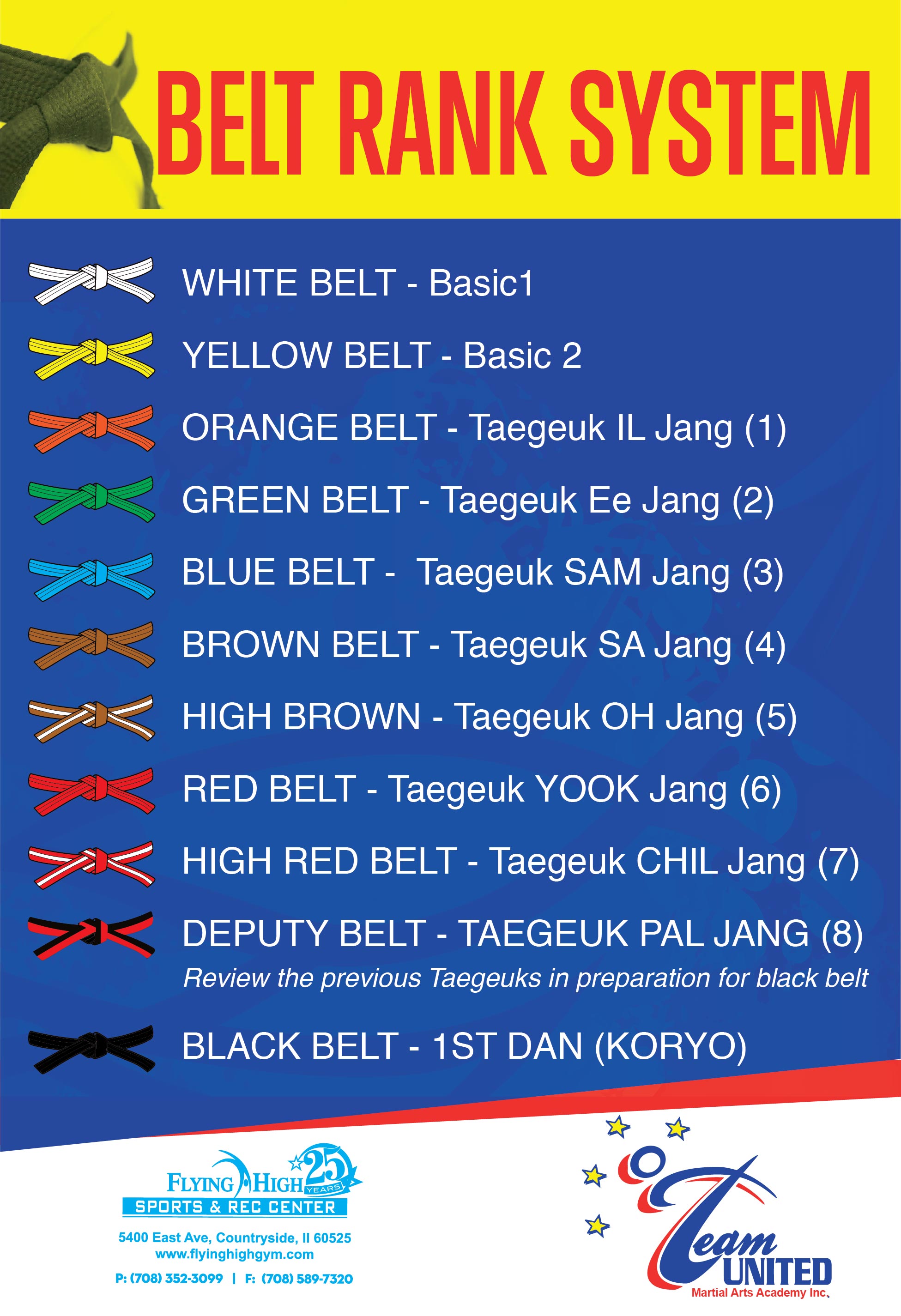 What are the uniform requirements?
What is the Belt Testing Process?
In order to advance to the next training rank, all students must be tested by Master Tiffany. Each belt rank has its own set of curriculum and requirements that the student must successfully preform at Belt Testing. Belt Testing is typically held every 4-5 months and students must be approved by Master Tiffany in order to participate in the Belt Testing. There is a fee for Belt Testing.
Does Team United Martial Arts participate in Tournaments?
Yes, Team United does participate in local tournaments. Tournaments are not a requirement and are voluntary for all Team United Members. A typical tournament offers divisions of; Poomsae (form), sparring, and board breaking. Students who register in advance for tournaments are prepared on curriculum by Master Tiffany.
What is Master Tiffany's background?
Master Tiffany has studied the art of Taekwondo for over 20 years. She began her training at the age of 6 and has over 13 years of teaching students ranging from ages 3 and up as well as adults. She is 4th dan Taekwondo and has previously trained in Hapkido, Kumdo, Nunchaku, and Jujitsu. She is also a National Academy of Sports Medicine Certified Personal Trainer and a Certified Stretch Therapist.